Happy Wednesday! Are you ready for some fun?
Today is a BIG day for my friend Hilary over at Feelie Beachie!
If you have been following my blog for the last few days, you know that she has a new book that is being released.
TODAY!!!!
Here is a blurb for you.
How well do you really know the people in your life?  
Annabel O'Conner has the perfect husband, two adorable children, an amazing job, and the mother from hell! Annabel doesn't like it but has come to terms with the fact that her relationship with her mother, Bea, deteriorated to the point of forced and strained communications. However, an unscheduled call from Bea turns her world around and makes Annabel question everything she believed about her life. 
Despite the fact secrets, lies, and misplaced blame have destroyed the women's relationship; Annabel reluctantly agrees to help Bea plan her wedding. Little does Annabel know the impact of her decision. 
In this Women's Contemporary Fiction novel, Hilary Grossman explores the complex relationship that exists between mothers and daughters in a light-hearted and relatable manner.
You can find my review here.  A 5 Star Must Read – Plan Bea!
To make things even more exciting and fun, she is having a giveaway!
Her first book Dangled Carat is also on sale! I read and loved this story of falling in love and the trials of complicated relationship – see my review here : GoodReads – Dangled Carat
It is just one great big party over her place!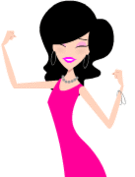 Congratulations my friend! I look forward to celebrating with you on this new release               and amazing accomplishment!
If you would like to contact Hilary
Dangled Carat is on Sale for .99 Cents. Click below!
Hilary Grossman – Dangled Carat
To enter the raffle