It is almost 9pm Denver time and I just survived a trip to the mall with my teenage daughter who has become wildly aware of clothes more so than normal. While this isn't a bad thing, it can be EXHAUSTING and I must remember one thing. Next time I need to go to the mall for myself, to take care of myself first before my daughter's wishes and desires because as soon as we had items purchased for her and she was sporting two shiny bags from two of her favorite stores, she was ready to head home and be done with me – while I did manage to complete the task in which I went to the mall for, it was comical that my daughter agreed with anything I picked out and asked how much longer at least three times in 15 minutes.
That being said, I made it home in time to check this out and link up! Enjoy!
Time out for Mom – Rory for her Tuesdays coffee chat.
This weeks topic
Random.  Got a rant to get off your chest?  
A recent victory to share?  
Some cute kids to boast about?  Your choice today.
Which links up perfectly into another blog hop I haven't done in while so this is AWESOME.
I am not complaining mind you, but simply sharing a revelation many have heard me talk about in the coming years with my kids being 3 years apart. I am a mother to TWO teenagers and they have officially reached that point where my whole purpose in their lives can be told from reading the Zits comic strip!
Here we go…
Pretty much sums it up for my son who is a man of little words.
then there is the wondrous world of cell phone apps!!!
Both my kids have their little addictions  listed above.
This one can be good and bad in the same day
The difference between girls and boys – my son lives in the same hoodie all week before switching it out for the next clean one in his closet  – err, on his floor. While my daughter pulls the clean clothes out of her hamper because clearly that is easier than folding them and putting them away.
and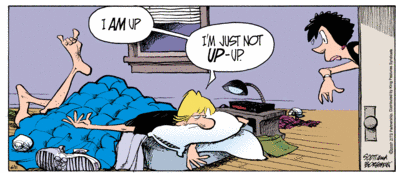 this one applies to my daughter – she is slowly improving. SLOWLY.
another good one
applies to my son and if you ask him what just happened on the movie we are in fact watching, he can tell you exactly – so getting irritated is pointless.
While they can be ornery,uncommunicative with words because they have perfected the eye roll – especially when they think I am not "watching" and get annoyed by the very presence of me, I was reminded today that they are both amazing young adults and all mine!